Games » Adventure » Lost Escape - Abandoned Mansion
Lost Escape - Abandoned Mansion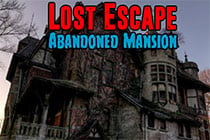 Play
Lost Escape - Abandoned Mansion
Lost Escape - Abandoned Mansion
16.164 Plays
You are on tour with your friends at night. When you wake up in the morning, you're not only all alone, your friends have taken your cell phone with them - and left you behind in an old building. Find a way out.
Comments
This game has no comments.
You need to
sign up
to post a new comment.