Games » Adventure » Gloomy Island Escape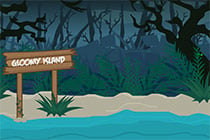 Play
Gloomy Island Escape
Gloomy Island Escape
29.046 Plays
After a strange dream you wake up on a creepy island. The trees have a strange shape, the atmosphere is oppressive and skulls have been placed everywhere. Investigate the area and quickly find a way to return home!
Comments
This game has no comments.
You need to
sign up
to post a new comment.