Games » Puzzle » Solitaire FRVR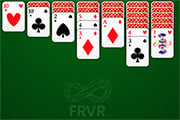 Play
Solitaire FRVR
Solitaire FRVR
480.731 Plays
Solitair is all about luck and tactics. Start with an ace and place it on an empty square. Then stack cards of the same suit on top of it in ascending order until the pile in front of you is empty.
Comments
This game has no comments.
You need to
sign up
to post a new comment.