Games » Adventure » Laqueus Chapter 6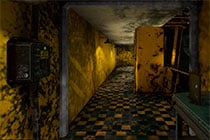 Play
Laqueus Chapter 6
More Games In This Series
Laqueus Chapter 6
9.375 Plays
You are in a huge factory building with an industrial crane. Almost all the equipment is not working because parts are missing and the power is out. Your task is to get everything working again and find the exit.
Comments
This game has no comments.
You need to
sign up
to post a new comment.