Games » Adventure » Laqueus Chapter 1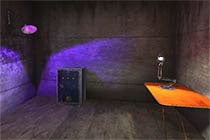 Play
Laqueus Chapter 1
More Games In This Series
Laqueus Chapter 1
16.022 Plays
You wake up in a dark room with a severe headache. You have no memories and do not know how you got here. The door is locked and there are only a few objects in the room. Examine the clues and find a way out!
Comments
This game has no comments.
You need to
sign up
to post a new comment.