Games » Shooter » Bloons Player Pack 3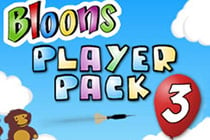 Play
Bloons Player Pack 3
More Games In This Series
Bloons Player Pack 3
78.584 Plays
Bloons friends, the wait is over, because the new bloon game is here. The fifth part will once again present you with the tricky task of bursting all the balloons with the few darts given to you. Good luck!
Comments
This game has no comments.
You need to
sign up
to post a new comment.