Games » Shooter » Bloons Player Pack 2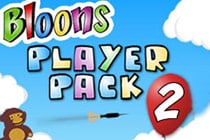 Play
Bloons Player Pack 2
More Games In This Series
Bloons Player Pack 2
104.180 Plays
Here comes part Bloons Player Pack 2 of the fun balloon popping. Clean your glasses, get your arrows in place and then you're off. Again you have to burst a certain percentage to get to the next level. Have fun!
Comments
This game has no comments.
You need to
sign up
to post a new comment.