Games » Puzzle » Space Pic Puzzler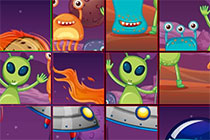 Play
Space Pic Puzzler
Space Pic Puzzler
4.212 Plays
Aliens exist and you have the proof in your hands. The picture you took should be clear. But somehow the pieces have shifted. Complete the puzzle by putting each piece in the right place!
Comments
This game has no comments.
You need to
sign up
to post a new comment.