Games » Adventure » Sweet Winter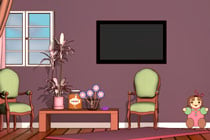 Play
Sweet Winter
Winter is approaching and with it the weather is getting colder. Your warm clothes are locked in the closet and you have misplaced the key. Examine your house, check the possible hiding places and solve all the puzzles until you find the key!
Comments
This game has no comments.
You need to
sign up
to post a new comment.