Games » Adventure » Spooky Suburb Escape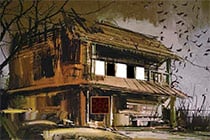 Play
Spooky Suburb Escape
Spooky Suburb Escape
11.489 Plays
After a wild night of partying, you've lost your way in the deserted suburbs. All of a sudden, a gate behind you springs into the lock and you're trapped. Investigate the abandoned buildings and find the lost key before night falls!
Video
Comments
This game has no comments.
You need to
sign up
to post a new comment.