Games » Adventure » Cursed Dungeon Escape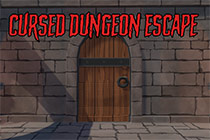 Play
Cursed Dungeon Escape
Cursed Dungeon Escape
2.315 Plays
After the hopeless battle, you were captured and imprisoned by the evil knight. He holds you prisoner in the dungeon of his castle and tortures you to get your king's plans. Examine your cell, keep an eye out for resources and try to escape as quickly as possible!
Comments
This game has no comments.
You need to
sign up
to post a new comment.