Games » Adventure » Escape the Moon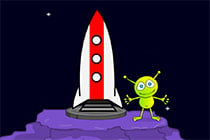 Play
Escape the Moon
Escape the Moon
16.918 Plays
During a failed landing on the moon, the engines of your spaceship were destroyed. Explore the planet and look for items that can help you on your journey home. Maybe the aliens can help you too!
Comments
This game has no comments.
You need to
sign up
to post a new comment.