Games » Puzzle » Voxel Bot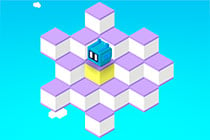 Play
Voxel Bot
The voxel bot is used to paint huge buildings. Help the little robot by pointing him in the right direction. Control him over the playing field and catch all the cubes to win. Dodge the monsters and obstacles so that Voxel doesn't get damaged!
Comments
This game has no comments.
You need to
sign up
to post a new comment.