Games » Shooter » Shell Shockers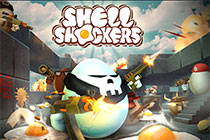 Play
Shell Shockers
Shell Shockers
20.837 Plays
In Shell Shockers you have to kill the 5 enemy eggs as many times as possible. Choose a weapon and look for grenades in the egg cartons to give yourself an advantage. Aim with the mouse and burst the red shells!
Comments
This game has no comments.
You need to
sign up
to post a new comment.