Games » Adventure » Monkey Happy Stage 679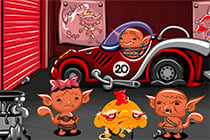 Play
Monkey Happy Stage 679
More Games In This Series
Monkey Happy Stage 679
7.512 Plays
The monkeys need your help urgently. The race starts in an hour and the car is not ready yet. Find the lost tools and look for the screws. Can you fix the racecar before the race starts?
Comments
This game has no comments.
You need to
sign up
to post a new comment.