Games » Adventure » Monkey Go Happy Stage 758
Monkey Go Happy Stage 758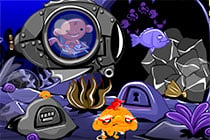 Play
Monkey Go Happy Stage 758
More Games In This Series
Monkey Go Happy Stage 758
4.116 Plays
The monkey family goes on an underwater voyage of discovery. In the process, they roam coral reefs and explore a sunken shipwreck. Your task: collect 20 shells and construct a grappling arm to open a treasure chest. Will you manage to solve all the puzzles and lift the hidden treasure?
Video
Comments
This game has no comments.
You need to
sign up
to post a new comment.