Games » Adventure » Monkey Go Happy Stage 667
Monkey Go Happy Stage 667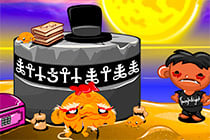 Play
Monkey Go Happy Stage 667
More Games In This Series
Monkey Go Happy Stage 667
6.391 Plays
The monkeys have joined a cult and need your help in preparing a ritual. Search the surroundings for the appropriate items. Crack the code of the safe and complete the ceremony before your friends get the idea to sacrifice you!
Comments
This game has no comments.
You need to
sign up
to post a new comment.