Games » Adventure » Maze Dungeon Escape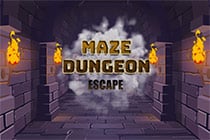 Play
Maze Dungeon Escape
Maze Dungeon Escape
2.204 Plays
A dark magician has locked you in the dangerous dungeon. There are similar corridors between the rooms and the whole construction resembles a labyrinth. Examine the walls and look out for identifying features. Solve the puzzles and escape from the dungeon!
Comments
This game has no comments.
You need to
sign up
to post a new comment.