Games » Adventure » Haunted Mansion Escape 1: The Attic
Haunted Mansion Escape 1: The Attic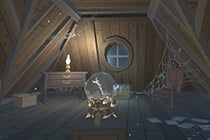 Play
Haunted Mansion Escape 1: The Attic
Haunted Mansion Escape 1: The Attic
123.231 Plays
Your car broke down on a dark and lonely road. You went up to the first house you found to get help. As you walked up to the gate, everything went black. You woke up inside and now you must find a way to escape!
Video
Comments
This game has one comment.
You need to
sign up
to post a new comment.