Games » Action » Jacksmith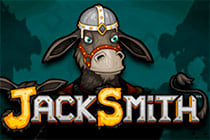 Play
Jacksmith
Take on the role of Jack Smith and save the beautiful king's daughter Liliane, who was kidnapped by the evil wizard Dudley. To fight him, however, you'll first have to make a good sword according to the rules of blacksmithing.
Comments
This game has no comments.
You need to
sign up
to post a new comment.