Games » Adventure » Forbidden Fortress Escape
Forbidden Fortress Escape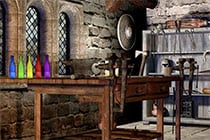 Play
Forbidden Fortress Escape
Forbidden Fortress Escape
15.513 Plays
The enemy army captured you and took you to their fortress. Since the cells in the prison were overcrowded, they locked you in the astronomy tower. Examine the equipment and solve all the puzzles to open the locked door!
Comments
This game has no comments.
You need to
sign up
to post a new comment.