Games » Puzzle » Rotate It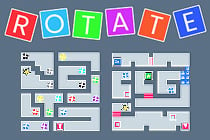 Play
Rotate It
High walls and various corridors separate you from your goal. Gravity always pulls you down vertically. Rotate the maze and slide through the corridors. Figure out a course of action and find the hidden star!
Comments
This game has no comments.
You need to
sign up
to post a new comment.